Activity
From the 9th of May until the 12th of June we organized and coordinated an online campaign for Malta.
This was an online advertising campaign with added Social Media (Facebook).
The goal of the campaign was to reach the target audience and more clicks to the campaign website.
The focus was on M/F in the age of 35 years and older.
We did the following activities:
– Preroll advertising to create awareness and inspire the visitor.
This is a video advertisement that plays before the content the user has selected.
For this campaign we designed a 15 seconds video that was played before popular TV shows as  BNN 3 op Reis, Ik vertrek, DDWW and more.
– Display advertising to generate reach and optimize traffic to website.
We designed the banners that were shown on several travel & weather related websites.
For example, Zoover.nl, Wellness.nl, Travelvalley.nl and many more.
– Facebook advertising to generate reach and traffic to the website and to increase the Facebook fanbase.
We did Facebook sponsored story advertising, Facebook carrousel advertising and Facebook page like advertising.
Client
Malta Tourism Authority
Results
The campaign has performed very well and we realized 8.312 extra clicks.
More engagement with the website of Malta.nl and the Facebook Visit Malta has been created.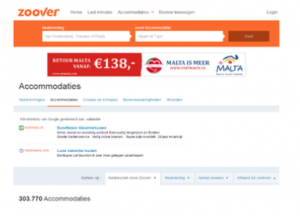 .